Animate in Ikebukuro, Tokyo, is hosting an exhibition of original artwork from the manga "DEATH NOTE" from September 8 to October 9.
Takeshi Obata, the artist in charge of drawing "DEATH NOTE", is one of Japan's most skilled manga artists. Young teenage girls and foreign tourists lined up to see his raw manuscripts in the exhibition hall.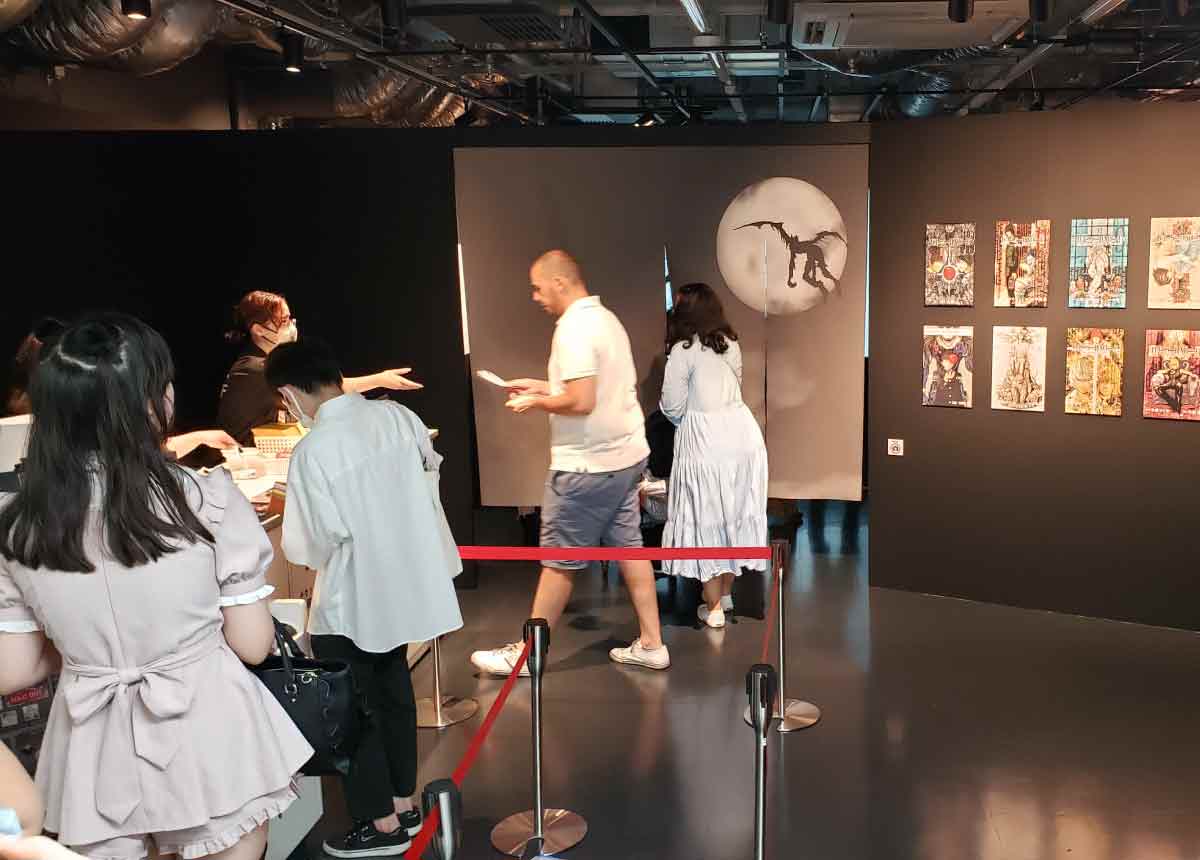 Obata is famous for his very sophisticated and beautiful illustrations, but surprisingly, his manuscripts were very dirty. That means there are traces of cutting and pasting the manuscript paper and correcting the face expressions of the manga characters with white ink. Obata is the type of manga artist who revises the most suitable picture at each moment of the production stage, such as rough drafts, drafts on manuscript paper, and final drawings, rather than determining the picture's details in advance. It was clear from the revision traces in the manuscript. Incidentally, Togashi's raw manuscript of "HUNTER x HUNTER" had almost no marks of revision.
In today's world of digital drawing, I very much appreciate the opportunity to see raw manga manuscripts. DEATH NOTE was serialized from 2003 to 2006. It was the work of a time when digital expression was emerging in a small part of the manga industry. I am thankful that DEATH NOTE, a historical work, still remains to be drawn with ink and screen tones on paper.
By the way, Obata's approach to digital drawing differs from that of other manga artists. It is a crafting style in which the object to be expressed is digitally processed, printed on copy paper, and then cut and pasted onto manga manuscript paper. So the finished form of his work is very paper-based. In a 2015 interview, he said, "I think the percentage of digital drawing will increase, but I don't think it will be the entire process. I still like to do manual work, so I prefer to do crafts and draw on paper". Obata is currently illustrating a serialized version of "Show-ha Shoten!" and the manuscripts are also on display at the exhibition. They are also painted with ink on "paper.
Objects at the venue. Naturally, taking pictures of manuscripts is prohibited.
The entire building of Animate in Ikebukuro is filled with anime and manga and is sure to be fun! If you visit Japan, you must go there!